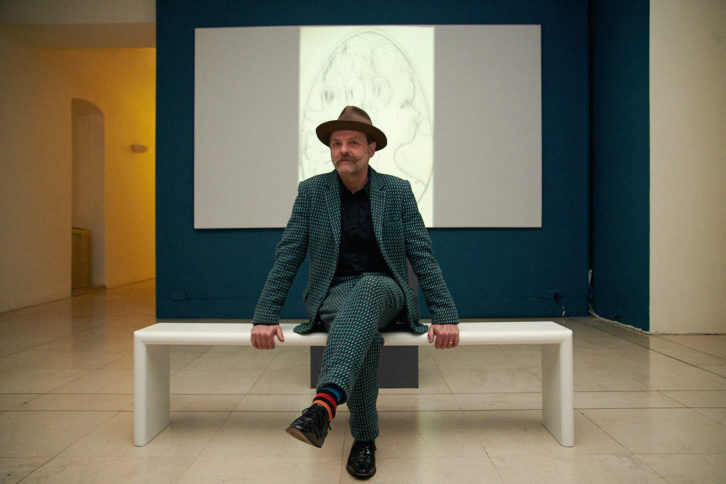 Now in it's fifth year, Photo London is bigger than ever, with artists such as Gavin Turk adding a new dimension to the show. Jo Ruddock headed to Somerset House to see what all the egg-citement was about…
Since its launch in 2015, Photo London, an annual photography event held at London's Somerset House, has gone from strength-to-strength. The 2019 edition welcomed 114 galleries and displayed work from 440 artists, making it the largest event hosted at the former home of the UK's HM Revenue and Customs.
Michael Benson, founder director of Photo London alongside Fariba Farshad, described the event as "a celebration of the past, present and future of photography" and the wide array of art on show certainly supported this comment.
A particular highlight of this year's exhibition was Gavin Turk's Portrait of an Egg.  In addition to a giant bronze sculpture of an egg an the River Terrace, Turk also invited the public to share their images of eggs to be displayed on the walls of the Great Arch in Somerset House, alongside another of his sculptures.
Turk explains: "I intended the installation to be a presentation of over 1,000 images from artists who voluntarily responded to the brief via social media – 'portrait of an egg'. It's a truly immersive experience – a 360-degree display with four large screens. All images dissolve into each other resulting in a dreamlike film that is projected in a room around a giant bronze egg. To achieve such a timeless experience, it was essential for the installation to use the latest projector technology."
As the project grew in popularity and it became clear that printing would not be an option, Turk turned to Canon in order to find a more suitable solution.
"Once we knew that there was going to be a large number of submissions, we started discussing which projectors would allow us to create the best possible experience at the event," he explains. "We needed projectors that were easy to install, lightweight and compact enough for us to install discreetly yet powerful enough to project around the entire room."
Four Canon XEED WUX6600Z projectors are situated in the room, in low-level enclosures that sit below the projected image. This unobtrusive setup is possible thanks to Canon's RS-SL06UW lens, which has lens shift of 75%+, allowing visitors to appreciate the artwork without the projectors getting in the way. This setup was particularly helpful at Somerset House as it would not have been suitable to fix projectors to the ceiling for a temporary exhibit.
Turk adds: "The images fill the four main walls within the Great Arch Hall in Somerset House – a room capable of holding 200 guests. To achieve such a large and seamless projection, the use of powerful, high-brightness projectors such as the XEED WUX6600Z was integral to ensure the images are displayed in rich, true-to-life colours even in ambient lighting conditions. These projectors produce such high resolution and vivid images that it feels like you are looking at original printed works."
Colin Boyle, European projector marketing specialist at Canon, explains: "The key reasons behind Gavin choosing this projector are that it's bright, it has excellent image quality and he can use the lens shift capabilities of the RS-SL06UW to get the results they want that doesn't distract from the art work. This lens is unique to the market, there aren't any other lenses out there that can do this, with both the short throw distance and the angle of lens."
Turk is quick to recognise the impact that technology has had on art, enabling artists to reach and interact with more people and create more engaging and immersive installations. "Projecting the works allowed us to make sure this was a truly democratic piece of art, that brings together the perspectives of people from across the globe. We wouldn't have been able to involve so many artists and portray their work in such high quality if we didn't have top projector technology. Simply gathering such a volume of artwork would not have been possible without social media."