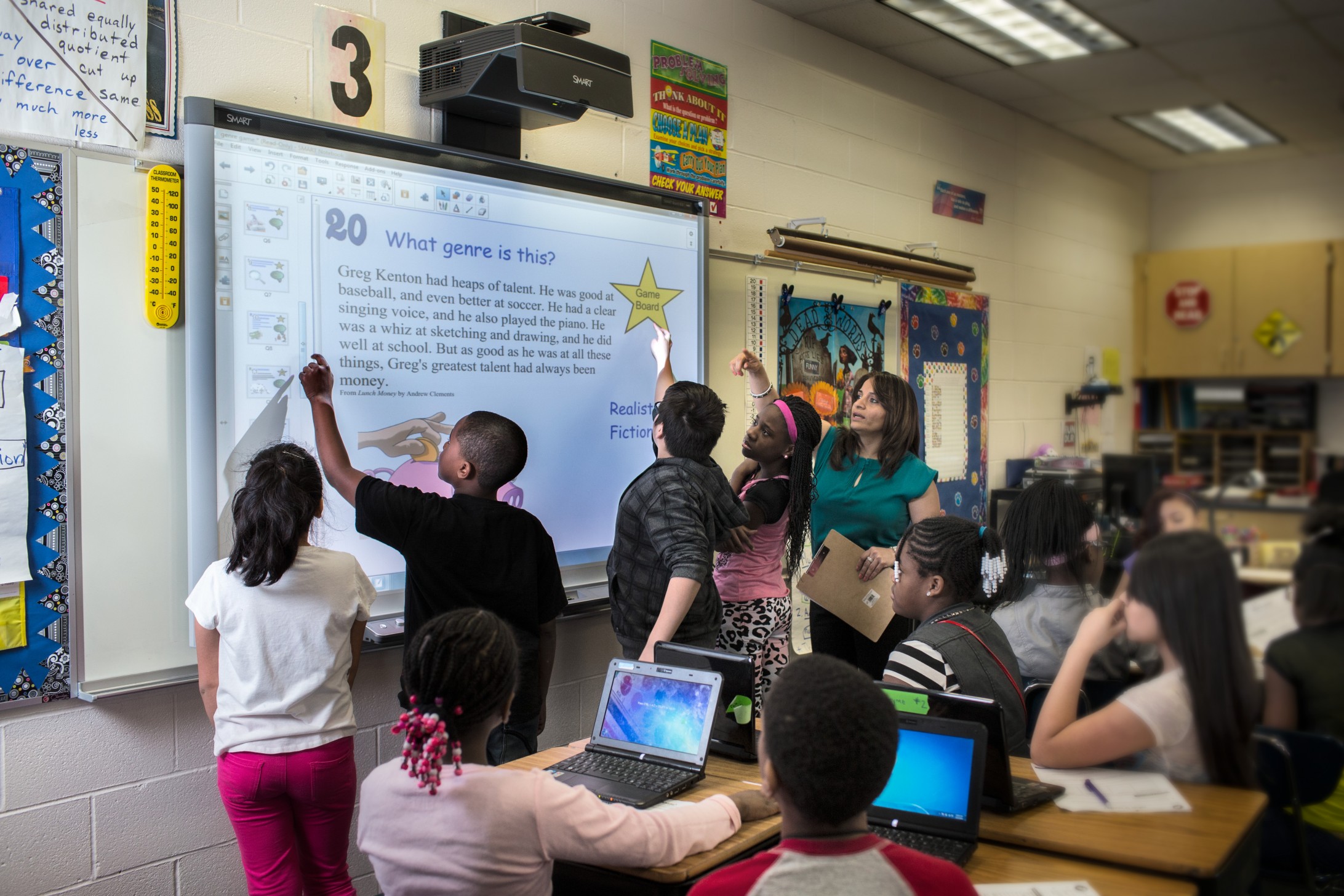 Following a look at the development of personalised learning techniques, here Steve Montgomery considers the impact of interactive touchscreens on the learning process.
While whiteboards have been the predominant presentation device in the classroom, other technologies are catching up. Interactive touchscreens have become more robust and cost-effective at larger sizes, enabling them to compete directly. Tom Gibson, product marketing specialist at Panasonic, believes they have significant advantages: "The introduction of new technology has certainly allowed teachers to encourage greater interactivity and content sharing; engaging and captivating the minds of young learners. We are dealing with a generation of children completely at home with interactivity, touchscreen technology and immediately available software. Our interactive displays can detect up to six touchpoints, allowing smooth operation of the screen with a finger or stylus pen. Notes can be made on almost anything, from video and photos to presentations and PDF documents, and then saved as an image file or emailed directly from the display to a mobile device, without the need to connect to a PC or install any software. With wireless connection via Miracast students can project or display their desktop, tablet or smartphone on a shared screen simply by connecting wirelessly."
According to Zulfi Baig at touchscreen solution manufacturer iBoardTouch: "The replacement of IWBs and projectors in classrooms with large-format flatpanel LED touch displays has greatly enhanced the teaching process. They can display bright and vibrant colour in normal daylight with crisp, legible text and fine image detail and external light reflection is reduced through the anti-glare layer on the screen.
"Schools want the freedom to choose software applications to use on touch devices and we focus on providing tools that enhance those apps, adding functionality and extending their usability. Sharing lesson plans and other materials across different manufacturers' platforms can be a source of frustration for many teachers. In response we have recently launched software that enables files to be transferred between different interactive platforms such as Smart and Promethean."
Another alternative to the whiteboard is the interactive projector. "Interactive whiteboards have helped a generation of students, but demand for mobile device integration and new kinds of content are creating a demand for more versatile hands-on technology. Finger-touch interactivity, mobile device integration and ultra-short-throw projection are fuelling an unstoppable trend towards interactive projection," points out Chris Goff, business manager, Visual Instruments at Epson UK.
"The projectors come with a range of connectivity options so teachers can connect their device easily and efficiently, whether it's a laptop, smart device or visualiser. Automatic set-up and calibration time is minimal so interactive presentation can be rapidly set up and projected onto any wall or tabletop, allowing students to get closely involved in presentations."
Projectors are essential in classrooms; however, lack of space means that it is often difficult to position them effectively. Short-throw projectors are a solution to this and manufacturers have been developing devices for this purpose. Optoma recently launched the EH200ST projector for the education market. It is capable of projecting a 100in 1080p resolution picture with a throw of just over a metre, allowing it to be installed between the teacher and the screen, avoiding unwanted shadows on the screen.
Casio's UST projector incorporates a laser and LED hybrid light source technology to deliver powerful, bright visuals in the teaching environment without the need for mercury-based lamps. Phil Clark, head of projection at Casio Projectors, comments: "The 3,100 ANSI lumen model can project a large-scale image from just 27cm, virtually eliminating shadowing and enabling teachers to interact with the screen at close range, driving a more engaging visual experience."
http://business.panasonic.eu
www.iboardtouch.co.uk
www.epson-europe.com
www.casio-projectors.eu