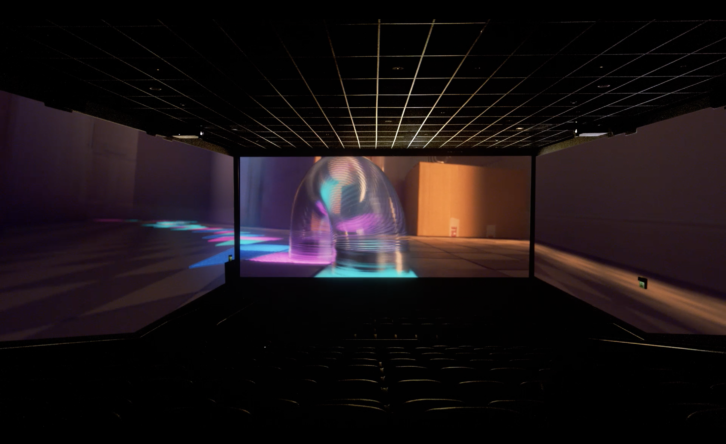 Halifax bank has become the first brand to run a ScreenX ad in the UK. ScreenX is Cineworld's latest state-of-the-art technology that extends the screen onto the side walls of the room, creating an atmospheric experience that surrounds the cinema seat.
Set to run for a period of four weeks, the partnership was brokered by MediaCom and Digital Cinema Media (DCM) in partnership with adam&eveDBB and Cineworld to bring Halifax's campaign to life.
The featured ad is Halifax's new creative proposition, 'That new home feeling, Halifax makes it happen', which celebrates that feeling of joy and excitement that comes with owning your new home.
The immersive execution will see the ad move across all three-screens to amplify the cinematic experience. Halifax has also taken the Gold Spot, the prime 60in directly before the film in all ScreenX showings for the entirety of the campaign.
ScreenX was developed in 2012 by the South Korean, CJ conglomerate, a leader in the Asian entertainment industry that also brought 4DX technology to the UK. It is currently available exclusively across Cineworld cinema sites.
Richard Warren, director of marketing communications, Group Brands and Marketing, Halifax, said: "We're very excited to be re-launching the Halifax brand with a new strategy, visual identity and advertising campaign that makes Halifax more modern, distinctive and relevant. We wanted to stand out and push the limit of how people see Halifax and ScreenX takes the cinematic experience to a whole new dimension. We're excited to be pioneering this new piece of technology."
Jeremy Kolesar, creative director – DCM Studios, Digital Cinema Media, said: "With DCM Studios, we continue to push boundaries with what's possible in cinema's unique environment. When ScreenX launched in UK cinemas at the back of end of last year, it opened a whole new world of opportunities for brands advertising in this space. We're thrilled to have worked with our partners to bring this exciting, unique piece of technology to brands and Halifax's latest 'Halifax makes it happen' campaign is the perfect fit for the technology."
Halifax's brand ad will run across all Cineworld ScreenX sites nationwide alongside some of this year's biggest upcoming films.