Paris-based system integrator ETC Onlyview has large-scale projection mapping down to a "fine art" at the Eternal Mucha exhibition, where nearly 30 Digital Projection laser projectors are helping to breathe new life into the celebrated artist's work over 80 years after his passing.
Focusing on the iconic Art Nouveau designs of Alphonse Mucha, Eternal Mucha (Éternel Mucha) is the fourth exhibition by Grand Palais Immersif – a subsidiary of the Réunion des musées nationaux – Grand Palais (Rmn-GP, the state-owned body which manages the iconic Grand Palais in Paris), specialising in the production, operation and distribution of immersive, AV-led digital exhibitions. Building on previous successful Grand Palais Immersif shows, Eternal Mucha utilises state-of-the-art AV technology, particularly large-scale projection mapping, to place the audience inside the exhibition, which utilises a total projection area of 103,000 pixels, spatial sound mixing, and olfactory technologies to create a true multi-sensory experience.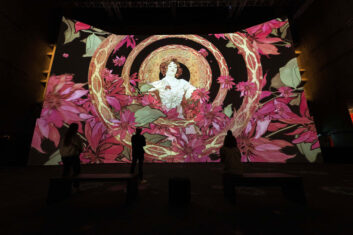 "We've been testing this format for a while," said Roei Amit, director of Grand Palais Immersif, who explains that 2020's Pompeii exhibition – which also made use of Digital Projection technology, featuring 31 E-Vision Laser 11000 4K-UHD projectors – served as proof of concept for the kind of immersive, projection-mapped shows which have fast become the company's trademark. "This was followed by La Joconde Immersive [Mona Lisa] in Marseille, then Venice Revealed and now Eternal Mucha here in Paris.
"This type of project is a huge collaborative work between technical staff and creatives, so as well as teaming up with the Mucha Foundation" – the co-producer of the exhibition – "we worked with various partners and providers, including Artisans d'Idées, Lundi8 and Mardi8, who did formidable work on the visual storytelling, and our technical partner, ETC Onlyview, for the [AV] installation."
For Eternal Mucha, integrator ETC Onlyview, who sold the projectors to the Grand Palais Immersif (GPI) and acts as a technical service provider for the exhibitions, deployed Digital Projection's E-Vision Laser 11000 4K-UHD projector, which offers class-leading solid-state illumination at an affordable price point. Powered by a single DLP chip, the E-Vision Laser 11000 4K-UHD delivers 10,500 lumens at either 4K-UHD (3840 × 2160) or WQXGA+ (2716 × 1528) resolution, offering installers and end users the performance and flexibility they need for their project.
"This exhibition is very sensory based, with beautiful images and sound, but there's also a very profound narrative approach," continued Amit. Rmn-GP worked with Studio Radio France on Eternal Mucha's sound design and music, while Technicoflor supported the olfactory elements. Immersivity is further boosted by interaction devices and digital interfaces which increase audience engagement.
The narrative approach mentioned by Amit is, however, best exemplified by the projection content, which centres on a three-part film focusing on the life and work of Mucha, from his invention of Art Nouveau in Paris (act one) to his work on the Bosnia–Herzegovina pavilion at the International Exhibition of 1900 and his creation of his magnum opus, The Slav Epic (respectively acts two and three).
The film, along with high-resolution (50,000px × 70,000px at 300 DPI) images of Mucha's work, is projected onto a triptych of projection surfaces – a 8,000px × 4,000px central screen, a narrow 13,000 × 3,000px 'strip', and a 8,000 × 4,000px projection area on the floor – with the three screens designed to complement each other while the content plays simultaneously. "This required a lot of background work in terms of design, integration and synchronisation," commented Nicolas Lim of Mardi8, which produced the AV content over a period of four months.
The 29 Digital Projection projectors used for Eternal Mucha – 15 in the main room, ten in the triangular secondary room, and four in the corridors – were calibrated using ETC's own Onlyview software, explains Lim. ETC, which has a deal with Grand Palais Immersif for four exhibitions (Pompeii, Eternal Mucha and two further shows), also supplied the screens (touch and non-touch), audio system and automation technology for Eternal Mucha.
Laurent Segelle, fixed installations lead for ETC Onlyview, explains that the partnership includes installation, programming, operation and maintenance of the equipment, as well as on-site support and assistance with technical and feasibility studies. "Typically during the exhibition, we come over one day per month to do some preventive and corrective servicing," he added. "We also provide GPI with a remote maintenance service if need be."
Segelle explained why the company opted for Digital Projection: "We originally specified the Digital Projection projectors as they had enough power for a maximum number of exhibitions, with minimum maintenance. We wanted equipment capable of creating large-format images with great resolution and, of course, within the allocated budget. The fact that the projectors have a five-year original warranty was also very reassuring and helped with the choice."
Lim said that despite the twin challenges posed by the tight installation deadline and the sheer quantity of data – 30 minutes of ultra-high-resolution video at 50fps – both software and projectors have performed admirably, effortlessly enveloping Grand Palais Immersif's 441m² exhibition space at the Opéra Bastille in Mucha's decorative artworks and designs.
"Digital technology enables us to present [Mucha's] works in a different way: We can dive into large-scale reproductions and see details that we would otherwise have missed," confirmed Amit. "Thanks also to the animation of these paintings, you can see, in a very detailed and inspiring manner, the way in which the movement in these drawings was achieved. And this is a real advantage of digital technology."